February 25-26 2019, Madras
Three of our trustees from the WST board are attending the first Web Science Symposium hosted by the Robert Bosch Centre for Data Science & AI at IIT Madras.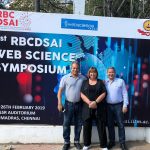 The RBCDSAI is hosting the first in what they hope will be a series of similar events across India.
The world wide web is an unprecedented phenomenon that affects all aspects of modern life including our communication, entertainment, and socialising choices.
Web Science is an emerging discipline that studies all aspects of the world wide web, ranging from the technologies that enable communication on the web to the wider social impact of the web. Some of the technologies include natural language processing, semantic web and ontologies, network science and analytics.
The Robert Bosch Centre for Data Science and AI (RBCDSAI) at IIT Madras is launching this symposium series to serve as a platform for the web science community in India to gather and exchange ideas. The first Symposium will be held in IIT Madras on 25th and 26th February 2019.
The program consists of talks by the trustees of the web science trust as well as experts from around the country