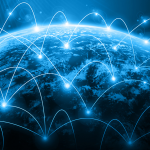 This month marks the 10th anniversary of the publication of Creating a Science of the Web in the journal Science. In this groundbreaking paper, Web Science Trust founder members, Tim Berners-Lee, Wendy Hall, James Hendler, Nigel Shadbolt, and Daniel J. Weitzner set out their manifesto. Identifying the need for improved understanding of the evolving Web, they concluded that:
Web science is about … engineering new infrastructure protocols, understanding the society that uses them … and the creation of beneficial new systems … Web science is about making powerful new tools for humanity, and doing it with our eyes open.
Since 2006 we have furthered the field through the establishment of an annual Web Science Conference, The Web Observatory, and the Web Science Network, as well as supporting Web Science Education worldwide.
As we prepare to celebrate the 10th anniversary of Web Science in a global event on 29 November 2016, Science are set to publish a new paper in which the authors of Creating a Science of the Web advance their vision for the future of this multidisciplinary field.
Download our 10th Anniversary brochure.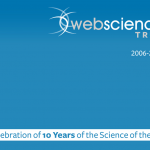 See our original post (as the WSRI) from November 2006 – via the Internet Archive.