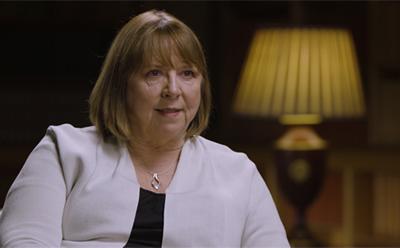 Professor Dame Wendy Hall, CEO of WST and head of Southampton's WSTnet Lab the Web Science Institute (WSI) features in a new series of short films featuring Fellows of the Royal Society discussing their favourite scientists in history. In an interview with Professor Brian Cox, Dame Wendy talks about the life and works of Alan Turing. His contributions in both theoretical research and engineering have, Hall argues, provided a firm grounding for modern computing and data science.
"Turing's ability to see what was going to be possible with computers, and how they were going to change the world, even before the first one was built, including the concept that computers might think and in time outperform human beings," said Dame Wendy. "And of course, his intellectual ability to develop the theory of computation is still the theoretical underpinning of so much of what we do today.
Turin's  work at Bletchley Park delivered vital elements to the solution for cracking intercepted coded messages from the Enigma machine during World War II that enabled the Allies to create an intelligence advantage. 
"He fought all his life to achieve what he wanted to achieve despite being 'different'," she continued. "He epitomises the battle for equality, diversity and inclusion that we are still struggling with today."
Dame Wendy was recently named as the only academic to make the 10th annual UKtech50, a list of the most influential people in the UK tech sector published by Computer Weekly. She also appears in a list of the 30 'AI gurus' in Europe to follow on Twitter by Sifted, a new website for the continent's innovators and entrepreneurs.
Click here to view the film via the BBC iplayer.