Ten years ago this week delegates gathered in Banff, Canada, to hear Tim Berners-Lee present his keynote speech at the World Wide Web Conference. The theme of his talk was the 'magical' relationship between the Web's technical protocols and social conventions – and what the interaction between them meant for newly minted field of Web Science.
Berners-Lee identified two 'magics' (stuff we don't understand yet) at play in this relationship. The first is when the microscopic interaction between two people on the Web scales to produce a new macroscopic phenomenon. The second is the 'creative magic' required to identify new microscopic designs that could have positive macroscopic effects.
Incidentally, the keynote inspired Greg Cypes (then Tech. Lead on AOL's Instant Messenger) to use a brand new Web app – 'Twitter' – to use the term 'Web Science' for the first time on the platform.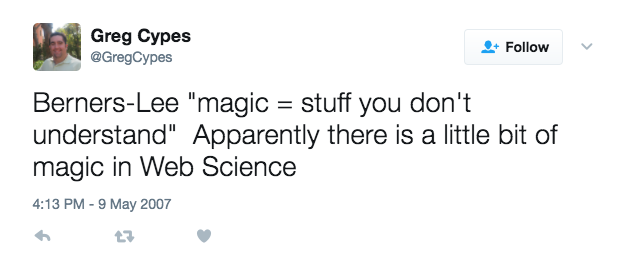 No one liked or retweeted the message, but 10 years on, and several billion microscopic interactions later Web Science continues to improve our understanding of the Web's impact on society. Members of the Web Science Trust Network carry out ground-breaking work in a wide range of areas, including: developing tools to identify robots on social media, exploring the potential of open data to transform society, and making interaction with computers easier for Web users.
These and many other topics will be discussed next month when experts and researchers gather for WebSci'17,  the 9th International Web Science Conference at the Rensselaer Polytechnic in Troy, New York.