REGISTER NOW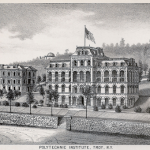 – WEB SCIENCE 2017
June 26-28th, Troy, NY USA
www.regonline.com/websci2017
WebSci'17 is organised by the Rensselaer Web Science Research Center and the Tetherless World Constellation at Rensselaer Polytechnic Institute.
ACM/SIG Member ($500)
Non ACM/SIG Member ($560)
Student or Retiree ($380)
Note: Prices are subject to change after May 26, 2017 for late registration
Be a WebSci'17 Sponsor!
Platinum and Diamond Sponsorship packages include opportunities for employees from your company to be part of the conference.
Details on Sponsorship Packages
Interested? Please contact Jason Kuruzovich kuruzj@rpi.edu, +1 (518) 698-9910