Welcome to our new series on PhD student profiles. In this series, we'll be visiting PhD students across the globe and showcasing their unique research in Web Science.
In our profile, we'd like you to meet Ipek Baris – a first year PhD student at WeST University of Koblenz-Landau. Ipek's research is sponsored by the Co-Inform project of the European Union. The project aims to research and develop tools and methodologies for combating online misinformation.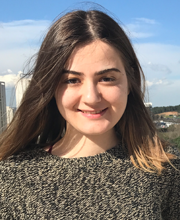 We asked Ipek how she was developing the topic further. She explained that "my research focuses on understanding misinformation diffusion by investigating user interactions in online media. I aim to use indicators of misinformation as features of neural network based architectures for early detection of misinformation, and seek to know whether the answers for these indicators differ among different cultures, nations and topics such as politics or health".
Ipek continues "as initial work, I investigated these indicators in an English rumour dataset and participated in RumourEval 2019 with a neural network-based architecture, which was ranked 2nd on the task of assessing the veracity of rumour". You can read more about this work in an upcoming paper titled "Convolving ELMo Against Rumours" in the proceedings of SemEval 2019, an international workshop on semantic evaluation.
"I chose Web Science at WeST for pursuing my PhD on misinformation because Web Science has close interactions with computer science and other disciplines, such as social science, political science and more", she says. "At WeST, I have the opportunity to work for my PhD with researchers from different backgrounds and disciplines. This opportunity helps me to progress faster and to be more productive in my research".
Ipek looks forward to developing her research further at WeST, and hopes to publish more research about combating misinformation online.