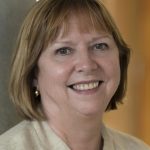 Our Managing Director, Professor Dame Wendy Hall joins Jimmy Wales (Co-Founder, Wikipedia), and Baroness Martha Lane-Fox, (Founder of the Internet educational charity, Doteveryone and contributor to our recent WebScience@10 TV Channel), along with many other luminaries in this years' Debrett's 500 list.
Described as 'a leading light in the development of web services', Dame Wendy is recognised by Debrett's for her pioneering role as one of the first computer scientists to embark on serious research into multi- and hyper-media technologies before the existence of the World Wide Web. A Professor of Computer Science within Electronics & Computer Science, Dame Wendy also draws praise as a founding director of the the Web Science Trust, alongside Web pioneer, and WST Senior Fellow, Sir Tim Berners-Lee.
Compiled in consultation with independent expert practitioners and commentators in each of the categories, The Debrett's 500 was launched in 2014 to identify and celebrate the most influential people in British society. All the people in the Debrett's 500 are scrutinised for their level of influence in shaping the lives, choices and ideas of others. Dame Wendy has featured in every Debrett's 500 list since its launch.